Cloister of la immaculada building, "IMMART" SPACE
The College of La Immaculada is a civil and religious building located above the old Franciscan Convent of the village of Jesús. It forms part of an enclosure with different buildings like the Church of Sant Francesc and the Parish Centre, and it mainly stands out because of its central space, an almost square area that frames a large inner courtyard with a ground floor and three upper floors.
The oldest records refer to the cession of a house and a hermitage dedicated to Sant Bernabé in order to found the Franciscan Convent in 1440. This is the nucleus of the original village which was later transformed into the current village of Jesús. Until the 18th century the convent grew in importance and it was in 1732 when significant building works transformed it. Around 1825, the Franciscans had to abandon the convent because of their exclaustration and in 1843 it passed into the hands of the Societat Cristallera. In 1854 the Jesuits took it over until 1933 when they were expelled and the old convent was converted into Casa d'Exercicis (Retreat House), a prison during the Civil War, and then Seminary and College of La Immaculada.
The convent courtyard, one of the biggest in Catalonia at that time, is formed by a cloister in the ground floor and three upper floors. The ground floor has five semicircular arches on each side and highly stylised Doric columns, while the upper floors are arranged with rectangular windows and are coated with plaster.
Location: Plaça Pati de la Immaculada, 1
Author: Unknown
Year: 1732
Architectural style: Classic with Tuscan style columns
Current use: Municipal offices
Covered courtyard area: 265.50 m2
Uncovered courtyard area: 197.50 m2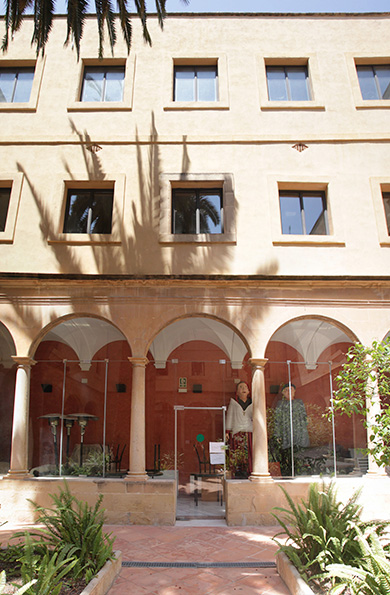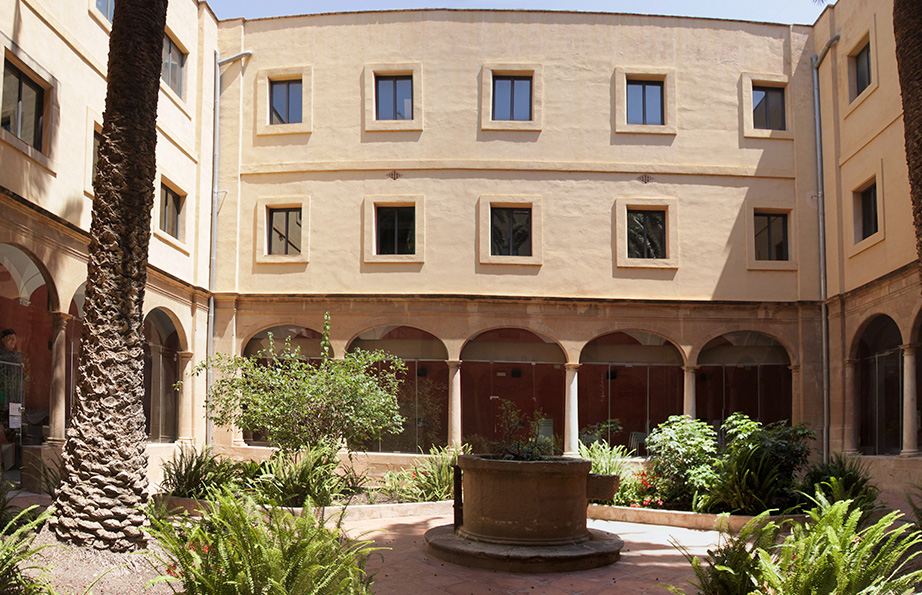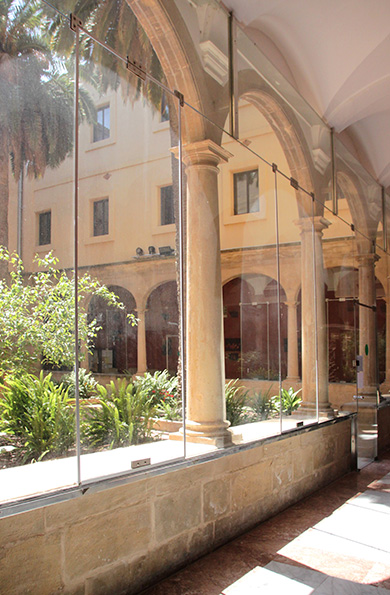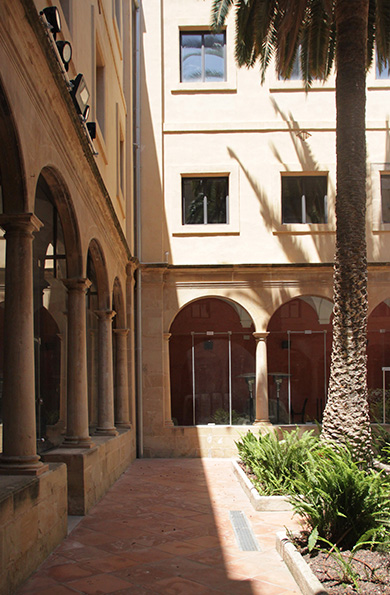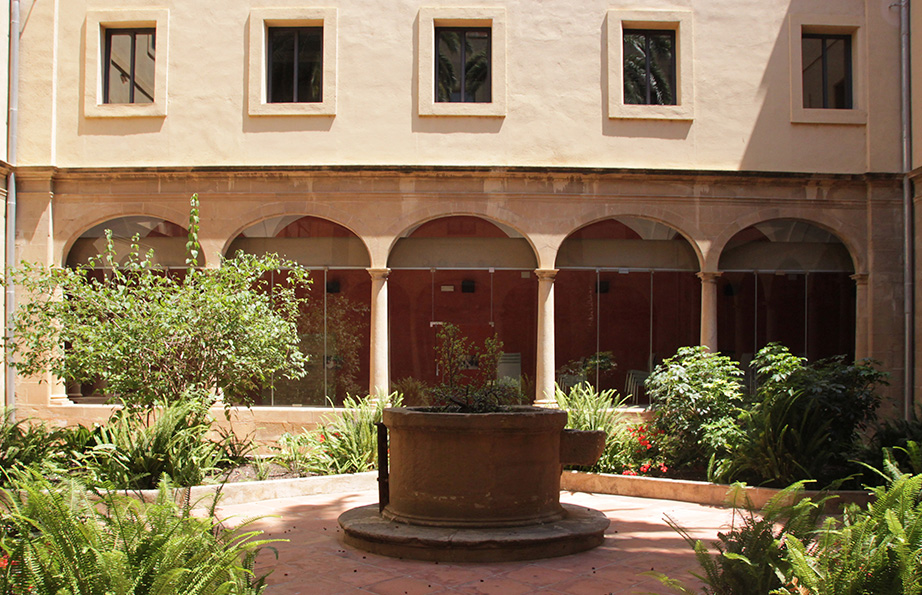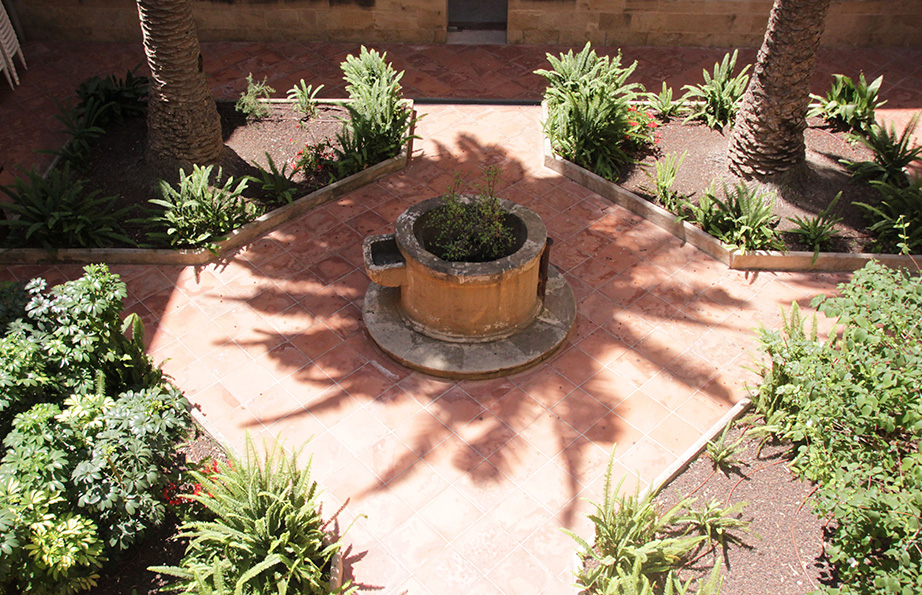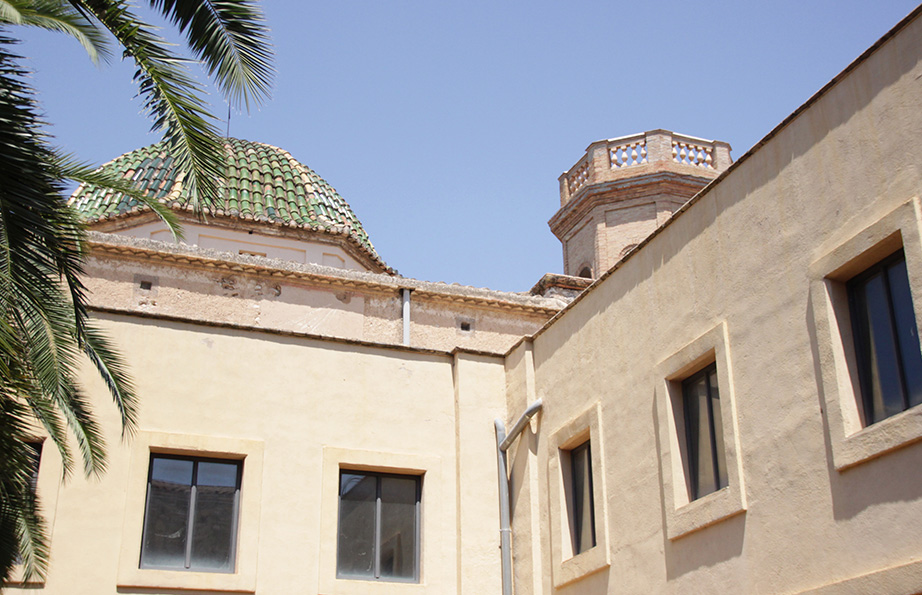 Installation invited by the Transéphèmeres de la Xarxa Transversal project
The installation aims to represent one of the most characteristic and primitive behaviours of human beings at every stage of their lives, that which has motivated them from the beginning and encouraged them to advance: the desire to know more and go further, to discover, a curiosity for the unknown.
A behaviour that is not easy and always results in complications; it is not a straight road with a visible and defined destination but one that leads to unknown places with unexpected twists and turns, where the simple can be complicated and the most obvious out of sight.
The intervention begins at the entrance to the building with a coloured ribbon that invites you to follow it, to discover and walk through the space to see where it goes. When you reach the courtyard, there is a blank, motionless cloth, stuck in time, aligned and inert, through which the line runs unaffected, sometimes on top and sometimes weaving in and out of it, but always following its own path.
It encourages the user to get lost in the space, to want to discover the destination and whether it has an end or is only part of the way.
Estel Jou and Ramon Heras are two architects united by a desire to offer an architecture that, taking into account the little things, builds spaces adapted to people and not the other way around.
Together they form UNDOS arquitectura, a close and meticulous studio located in Bordils, Girona. They define themselves as a balanced combination of reflection, listening, efficiency, technique and aesthetics. Their values can be seen in each of their projects, creating pleasant, comfortable and soulful spaces.
Their architectural services also provide specific solutions for government bodies, focusing on mobilising unused housing and transforming urban spaces so that access to housing is truly an accessible right for every citizen.